Home security packages tailored to your needs
Key features:
Intrusions, smoke, water damage and abnormal temperature changes are automatically reported to our surveillance center, 24/7

In the event of an alarm, GardaWorld Guard Response will go to the site**
Request a quote
Protection+ Package
Detection is an important part of a security system, and the Protection Plus package has what you need:
Monitoring for floods, abnormal temperature variations and smoke, 24/7

Five-point leak and water damage detection to reduce the risk of damage, and to benefit from the maximum insurance discount

Detection of both high and low temperatures can identify air conditioning or heating failures, both of which can have harmful consequences (e.g. broken pipes in the winter or discomfort from the heat among vulnerable people)

Smoke detection is linked to the surveillance center, ensuring a rapid response from the emergency services and the proper functioning of the system (battery monitoring)

On-site response by GardaWorld's Guard Response** service; avoids possible false alarm charges if police officers show up on site

Lifetime warranty on your security system and its detection components, both for parts and labor, and without travel expenses—as long as GardaWorld is monitoring you

Possibility to save up to 30% on home insurance

Here's what you get with all our packages:
Your home is monitored 24/7 for intrusions

A simple and intuitive touch screen

A talking panel to guide you

It's wireless, so there's no need to install wiring for detection devices

The system relies on secure GSM communication, so there's no landline required (which avoids potential line breaks)

The GardaWorld surveillance center is notified immediately if the panel is tampered with or damaged

This powerful security system can be easily upgraded to one of our packages with home automation, video technology and more

Weather display

Can be armed and disarmed remotely and lets you receive alarm notifications by text message or email
* As long as the system is monitored by GardaWorld. Some conditions apply. Taxes are not included. See the warranty certificate for more details.
** Only where the GardaWorld Guard Responses service is available. The service includes up to 3 calls per year.
Package details:
Protection Plus Package: Service and installation fees of $99.00 for a 60-month agreement (total value of the agreement: $2,097.00) or $199.00 for a 36-month agreement (total value of the agreement: $1,258.20).
Launch promotion
Select your package today and
we'll give you up to $200*
in additional equipment to customize your security system.
Speak with a GardaWorld security systems expert: 1 833 GARDA 33 (1 833 427 3233)
*Available upon signing a 60-month contract. Rebate of $50 to $200 based on the chosen package. Certain conditions apply. Limited-time offer.
The GardaWorld Difference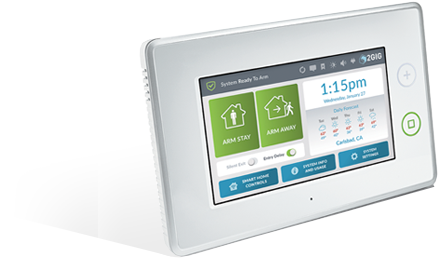 We are the largest privately owned security company in the world. Our wide range of services allows us to offer complete, customized solutions backed by first-rate customer service.
For 25 years, our work ethic has been rooted in four core values: integrity, trust, vigilance and respect.
We employ more than 92,000 dedicated and highly qualified security professionals across the globe.