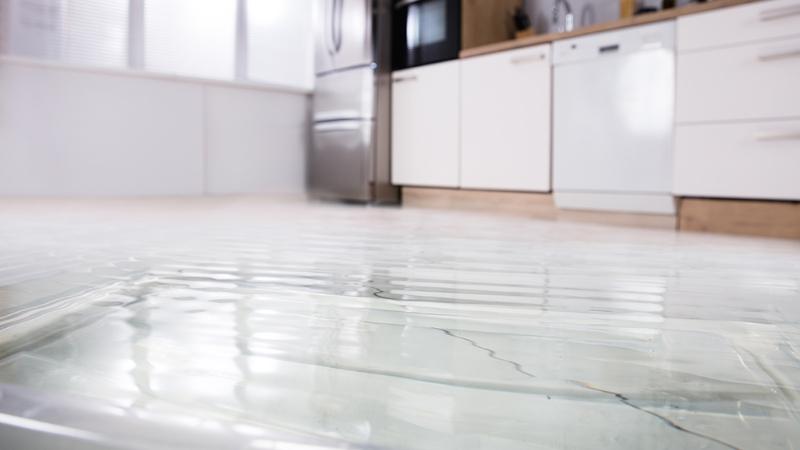 A single water leak can lead to major stress, and a serious blow to the savings account. While everyone thinks that water damage won't happen to them, the reality is leaks are an incredibly common occurrence. According to one insurance company, water damage is the number one reason that Canadians make home insurance claims. And in a recent survey, 26% of homeowners said their home was recently damaged by water.1
The cause of water damage 
In most cases, you don't have to worry about water seeping in from outside, since water damage commonly occurs from inside homes—from pipes bursting, a leaky toilet, a burst washing machine supply hose, or a cracked water heater. These problems typically don't give warning. In fact, a crack in a pipe just an eighth of an inch can shoot out 1,000 litres of water in a single day, according to the Institute for Business and Home Safety.2 
The high cost of water damage 
Water damage can lead to tens of thousands of dollars in repairs, plus the cost of replacing damaged furniture and personal items. According to the Insurance Board of Canada, the average cost of tackling a flooded basement is $43,000.3 Then there's the psychological stress of losing important belongings, the time involved with navigating insurance companies and contractors, and the potential upheaval of a hotel stay during construction. 
In short, you want to prevent water damage from happening in the first place. And that's where our water leak detectors and our smart water shut off system come in. 
Here's how we can help you prevent water damage: 
Flood and leak sensors are placed throughout the home close to likely sources of leaks—in the basement, behind toilets, under sinks, behind the washing machine, and so on. As soon as the water leak detector senses liquid, it triggers an automatic cut off of water supply at the main water valve. You'll get an automatic notification on your phone, as well as a call from our monitoring center. 
This means that the amount of leaked water will be minimal and damage can be immediately prevented with cleanup. The benefit is so great, that some insurance providers will reduce your fees by up to 30% when your home is protected by an automatic water shutoff valve—and it's combined with an intrusion and fire protection system. That's because providers know that a smart home water shutoff system significantly reduces the risk of serious damage. 
You'll be glad to know that GardaWorld Security Systems' smart water shutoff system will spring into action and sound the alarm even if your wireless network is down. That's because the water leak detectors and shutoff valve don't rely on Wi-Fi to communicate with each other; they rely on encrypted and secure radio signals.
And you don't have to worry about activating the leak detectors; they work 24/7, giving you peace of mind whether you're away, at home, sleeping, or in the backyard. In other words, you can run your dishwasher and washing machine and head out without a worry.
Open and close your water shutoff valve remotely 
In addition to preventing water leaks, a remote-controlled water shutoff valve makes your life easier. That's because you can open and close the shutoff valve remotely through a smartphone app. If you're going on vacation or you're worried about the pipes freezing at your cottage, you can remotely operate the shut off valve, and later turn it back on when you're a few minutes away from home.
With our smart water shutoff system, you'll no longer feel a sense of panic when you've driven 200 kilometres and you're wondering if you turned off the water. You simply open the app on your smartphone, see if the main water supply is open, and close it by tapping a virtual button.
Understanding how our water detector and shutoff valve system works 
Here's a step-by-step guide to explain exactly what happens if there's a water leak in your home.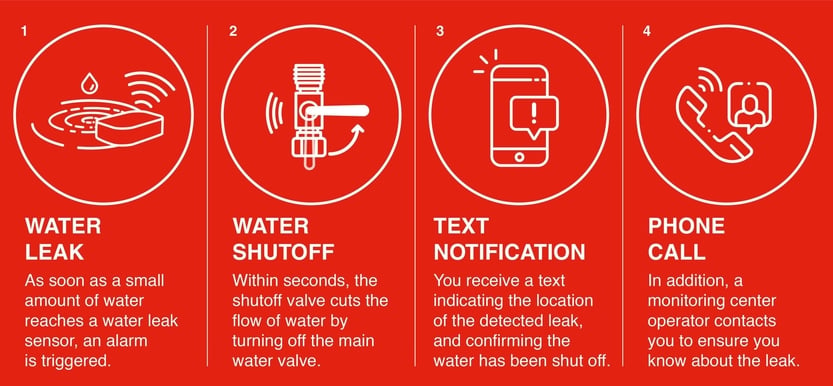 Order a smart leak detector protection kit today to safeguard your home against water damage. It's simple! 
Call us at 1 833 GARDA 33. Our water leak protection kit can be added to your existing security system if you already own a GardaWorld smart security system. If not, we can set you up with one of our systems, and you can choose from a range of security, remote monitoring and control options. Our smart water valve works with most ¼" ball valves, up to 1 ½", so our system is suitable for both older and new homes. We're happy to answer any of your questions. And as soon as you're ready, we will book a technician to visit your home for the installation. 
 
Installation is fast and easy—you'll be glad to know it does not require drilling any holes in your walls. The water leak detectors are small and unnoticeable square-shaped devices without any wiring. They are placed directly on the floor in discreet locations around the home that are prone to water leaks. The shut-off valve can usually be screwed onto your existing main water valve in minutes.4 
Before leaving your home, the technician will virtually link the water leak detectors and shutoff valve with your security system. 
Once the smart water shutoff system is installed, you'll be able to breathe easy, knowing that you'll be alerted and protected in the event of flooding, a burst pipe, an overflowing dishwasher, and many more unforeseen events due to water. 
Don't wait for the psychological and financial stress of a major leak to motivate you to install leak and flood sensors and a smart water shut-off system. Water events are unpredictable, but you can count on GardaWorld's smart home water shut off system to spring into action and protect your house, your belongings, and your pocketbook. 
1 https://blogues.desjardins.com/press_release/2018/12/had-water-damage-youre-not-alone.php 
2 https://www.insurancejournal.com/magazines/mag-features/2006/01/02/64842.htm 
3 https://www.insurancebusinessmag.com/ca/news/flood/why-is-basement-flooding-on-the-rise-across-canada-188720.aspx 
4 In certain circumstances, the customer will need to hire a plumber to install the shut-off valve.